Lewa Downs is old, gracious Kenyan living, a throw back to better times for Kenyan whites. Children run in and out of the main house chasing each other and the dogs. Shorts and T-shirts are the dress of the day. Shoes are non-existent. Laughter and giggles everywhere. The children tumble out of bed in the morning into the lush gardens of the main house owned by the Craig family, Wilderness Trails. The young ones and the dirt blend in just a few minutes. Soon everyone is the color of dust in stark contrast to the lush bouganvillea and the Masai dressed in their colorful beads and blankets.

Lewa Downs in Kenya is a different slice of Africa. We are housed in a two-bedroom thatched roof cottage. The lovely living room has a huge fireplace, sofas, chairs, tables, and a fully stocked bar. The bathroom has stone walls and a stone shower where the soap dish is a functional hole hacked out of a rock. The shower and sink have real working faucets and plenty of hot water.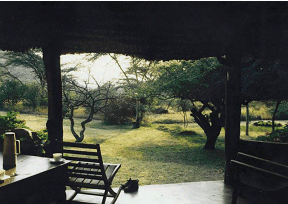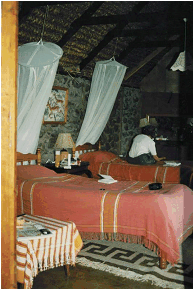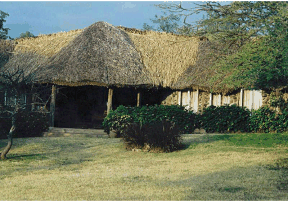 Wilderness Trails at Lewa Downs is a luxury summer camp. In our rustic lodge we are, as usual, awakened by the announcement of morning coffee; but, here we stumble out to the shared, covered veranda and pour our own. We actually felt more pampered in the tent. In the early morning, after coffee and before breakfast, we hiked and looked for birds. We visited streams and waterfalls, stumbled on the rocks and had a lovely time.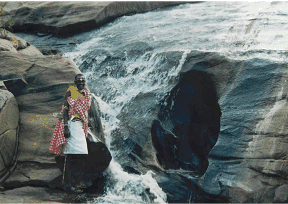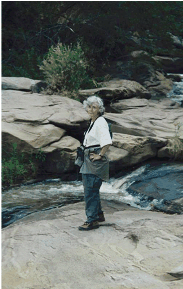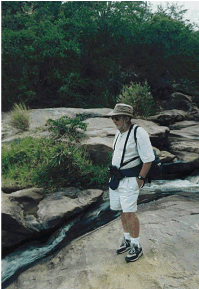 After a huge breakfast back at the lodge, we were off on a game drive.

The guides at Wilderness Trails are extraordinary. They are charming, experienced, knowledgeable and appear to enjoy the guests. Everone from our hosts to the kitchen staff go out of their way to make this stay special.