Fairbanks - 6/21

We arrived in Fairbanks early in the evening of 6/20 after taking the non-stop flight from Petersburg to Juneau, waiting an hour and then taking the non-stop flight from Juneau to Anchorage, waiting a couple of hours (Enough time to get something to eat.) and then taking the non-stop flight from Anchorage to Fairbanks.

We knew ahead of time that the first agenda item was LAUNDRY. It turned out to be no problem. We had changed from a B&B to a Motel because of the laundry chore. That turned out to be a good decision as they had a "Laundry by the Pound" service. We used it and the chore was DONE!

Our first stop was the Morris Thompson Cultural and Visitors' Center. We got a taxi and went on our way. As it happens we had a VERY circuitous route. There was a lot of construction being done in "downtown" Fairbanks. We were not impressed with the Visitors Center. We looked at the exhibits and watched a short film but decided it wasn't for us. So we decided to go to the University of Alaska's Museum of the North. We were told a bus from outside the Visitors Center would take us there. Unfortunately we took the wrong bus and had to wait in the central bus terminal for about an hour for the correct bus.

We did make it to the museum and enjoyed it. Only a couple of pictures. On the left a picture of the museum building which I thought was both unusual and very attractive. On the right is a picture of Granny in what they said was an Alaskan Out House!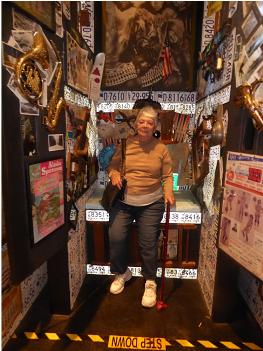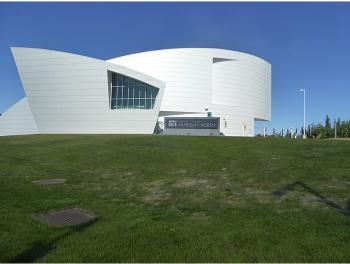 Back to the motel, dinner, pack and that was our stay in Fairbanks. The next morning we had to be up early as we were supposed to be at the train station by 7:15am. We got there on time and were off to Denali. (See the Denali page.)


Anchorage - 6/24-6/27

We arrived in Anchorage close to 8pm. We had dinner on the train so we weren't hungry. All we needed was a taxi to the B&B. On the way we went through a number of sections of roadway where work was being done. Our driver informed us that there are 2 seasons in Alaska - Winter and Construction! Obviously we weren't there in winter.

The B&B was quite a way from the center of town. That didn't bother us because we had reserved a car for the last 2 days of our stay. We stayed at the Highland Glen B&B. It is owned and operated by a couple - he is 80 and she is 76. They do ALL the work and care of the place. It is BEAUTIFUL!! I think it is one of the nicest B&Bs we have ever stayed at.

We had a nice, large "suite". It had a large bedroom and small adjoining area that also had a bed. There is a guest lounge on the second floor (We didn't avail ourselves of that.) and a chair lift which was what Granny used to get to the second floor. A very good breakfast was served every morning.

The first day, Sunday 6/24, we spent with David and Sharon Mannheimer. IT WAS A WONDERFUL DAY!!

(A note: Another hobby of mine is family genealogy. I found that I had a couple of 3rd cousins living in Anchorage. I had never met either one but that didn't stop me from contacting them and introducing myself. I had a nice chat with David Mannheimer and he offered to show us a bit of Anchorage and spend the day with us.)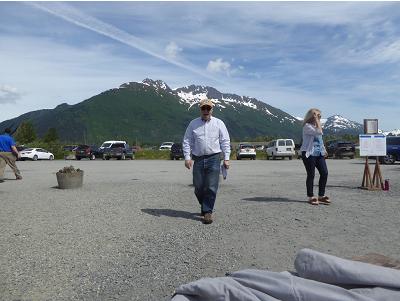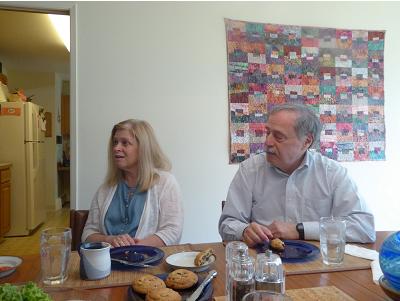 On the left, you can't see us but we are enjoying a cup of coffee at David and Sharon's home. We had a chance to get to know each other. Then it was off to the Alaska Wildlife Conservation Center. On the right are our hosts coming across the parking lot before we enter the center.

The Alaska Wildlife Conservation Center is a non-profit organization. It takes in injured and orphaned animals, treats them, cares for them and if possible reintroduces them to their native habitat. (That doesn't occur too often.) All the animals wander freeliy within their own fenced in areas. Although they are not they are not free and in the "wild", there is an opportunity to get some pictures of animals we wouldn't otherwise see. I only have a few pictures and they are only of a few of the animals in the Center.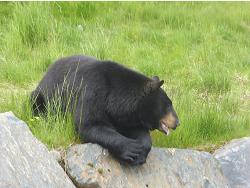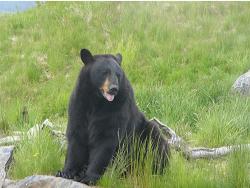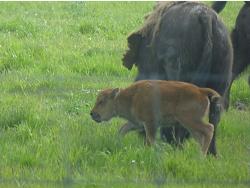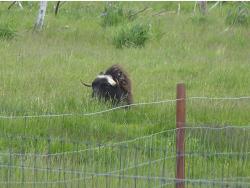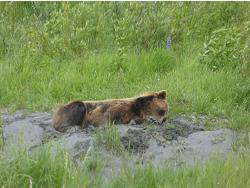 The most photogenic of all were the black bears. This one would just pose for me.


On the ohter end of the spectrum were the brown bear (left) and the musk ox (right).





And the the bison. Pretty much oblivious to us. Even the calf, who only had eyes for Mama.

Monday and Tuesday were spent visiting Drs. First we had to pick up or rental car and then it was off to the hospital so Granny could get her staples removed. I offered to get a screwdriver and do it myself but the offer was declined. By the time we were done at the hospital, it was time for lunch and both of us were exhausted. So, it was lunch and back to the B&B for rest time.

I was concerned about our "colds" so I called the office of my other Anchorage relative - Dr. Charles Aarons. ( Charley is another 3rd cousin that I spoke to before we left for Alaska. ) We made an appointment to see him the next day. Tuesday we were back fairly close to the same area as the hospital from the day bef\ore. Charley examined me and because of my medical history, decided he wanted me to have an X-ray. That done, he informed me he thought I had a touch of pneumonia and gave me a prescription.



.

Once again it was lunch, fill the prescription and then back to the B&B. We had a "recuperating" nap and then it was time for dinner.

The next morning it was pack up and off to the airport for our return home!