We arrived after a long but uneventful trip. We left Palm Beach Gardens about 8am and arrived in Luxor about 3:30pm the following day. However, it's not quite as bad as it sounds. Luxor is 7 hours ahead of East coast time so our arrival was just over 25 hours after lift off.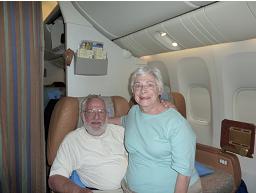 Here's Granny doing her thing onboard Egyptair enroute to Cairo.


This is just to prove that I went along for the ride.

The arrows indicate the stops on our journey.

As you navigate through the site, click on any of the pictures to see an enlarged version.