We arrived in Florence by train from Venice. It was a fast and easy two hour ride. Upon arrival at the Venice train station, our porters took us to our coach, stashed our luggage and showed us our seats. Actually the seats they showed us weren't ours. Our seats were across the aisle. No harm done.

Upon arrival in Florence, there were 2 wheel chairs and aides waiting for us. We had spoken with the Sala Blu - assistance for the mobility impaired - in Venice and they had arranged for our reception in Florence. It was a VERY nice and helpful service.

When we got to our hotel Fadi Bassil, our guide for Florence, was waiting for us. Our accommodations were really an apartment. We had a LARGE living/dining room, kitchen (with washing machine - important), small dining area, bedroom and bath. We were right at the river, one bridge away from the Ponte Vecchio. Below are pictures taken from our living room.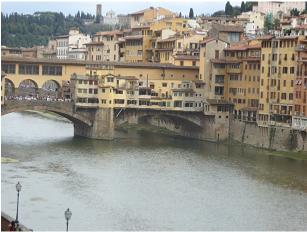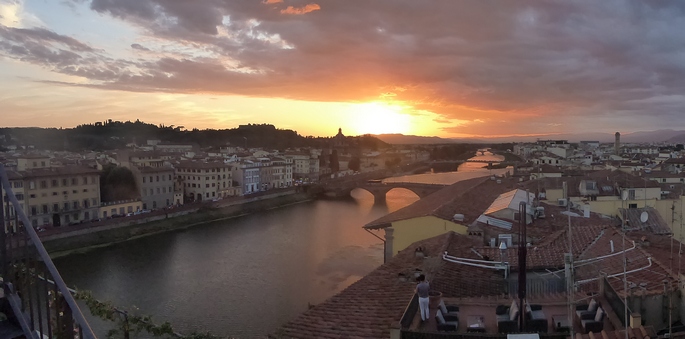 Our hotel has two terraces on the top - 6th - floor. One overlooks the city with the Duomo, the other overlooks the river and the portion of the city across the river. Below are pictures from both terraces. The large one is a panoramic view from the terrace overlooking the river. The other two are taken from the city view terrace.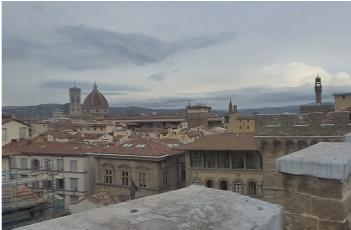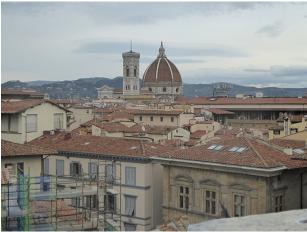 The artwork in Florence is overwhelming. More than one lifetime is needed to really see all the masterpieces. We only had a few days. Our first stop - The Uffizi Gallery. This is one of the most famous galleries in the world and home to some of the most famous artworks. We saw a miniscule few. I took some pictures but pictures can't do justice to the real thing.

Madonna and Child with Angel
Filippo Lippi

Baptism of Christ
Verrocchio & Leonardo da Vinci

Ognissanti Madonna
Giotto di Bondone

Getting around Italian cities can be quite a challenge. Many of the "streets" are so narrow that you would think that NO car could get through. In fact, we often missed our turn because we thought that it was just a passage way and not a street. WRONG! Locals travel by motorcycle, motor scooter, car, bus, and FOOT! Many of the cars look like they could be carried as spares in an American car. Look at the one below. I think we were told that this is really a motor scooter made to look like a car.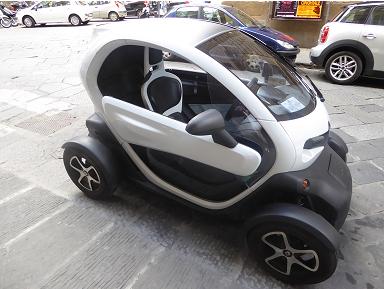 I had only made 1 dinner reservation for our 6 night stay in Florence. In addition we had arranged a cooking class for one evening. Our one reservation was at Zeb Gastronomia. It turned out to be a modern "diner". There was seating for about 20 customers ALL at counters. I only have pictures of our "primi". Italian dinners consist of what seems like 17 courses. In reality it is only about 4 courses - appetizer, primi, secondi and dessert. Pasta dishes are usually in the "primi" category. "Secondi" are the entree of meat or fish. Most of the time, Granny and I would share an appetizer (if we got one), share a primi, and either share a secondi or each get one. At Zeb we each got a primi, a secondi and shared a dessert.

Granny at the Zeb counter

Spaghetti with pesto sauce