On our last morning in Cusco, we happened on a weekly flag raising ceremony . A goose-stepping military procession started the festivities. This was followed by some kind of walking back and forth to and from 2 flagpoles by local dignitaries after which a flag was raised.

The ceremony was culminated by a parade of local schools and organizations. It summarized our days in Cusco; the various locals with their unique costumes, families on a Sunday outing, street vendors, short skirted girls next to crones.

A happy farewell to a lovely, picturesque, tourist town.

Cusco is probably the most visited city in Peru. It is high in the Andes and is the gateway for visiting Machu Picchu and the starting city for people trekking the Inca Trail. The city is very quaint with narrow streets many of which seem to go straight uphill. It's a challenge at times walking around the city because the combination of the altitude - 11,300 feet - and the hills make for strenuous strolling.

.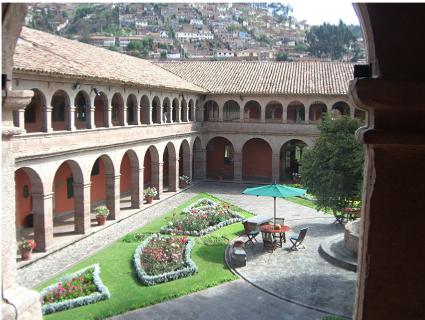 We stayed at a beautiful hotel that used to be a monastery. Appropriately, the hotel is named Monasterio. :This is a view of the courtyard taken from the second floor not far from the door to our room.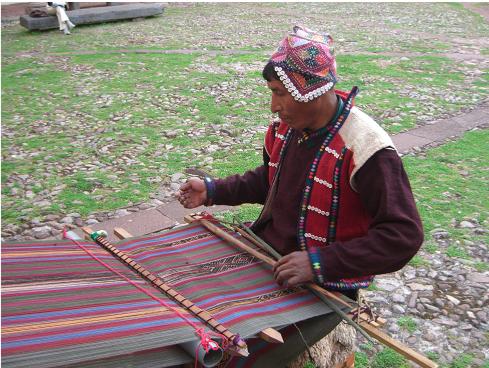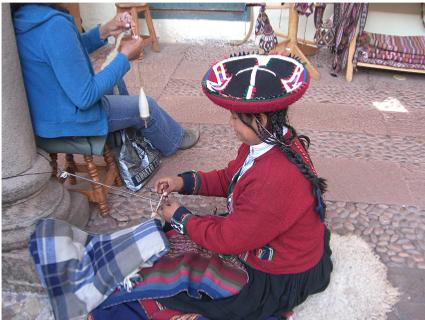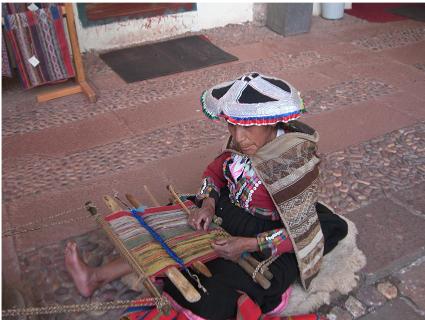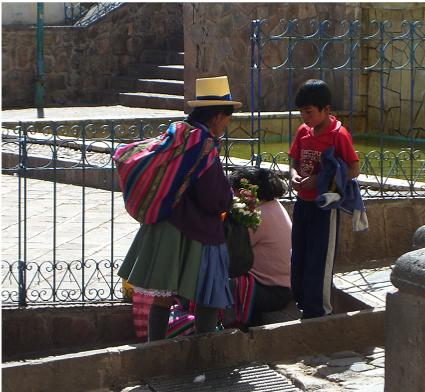 There are many indigenous people that weave using a "backstrap" loom. Here is a man who was weaving some beautiful articles. It is amazing how fine the weavings are and how quickly the people complete an item with a complex design. Many of the weavers make very narrow items that can be completed quickly and are inexpensive for the tourists.

Another sight we found interesting were the various hats that were worn by the people from different areas. We were told that you could tell where a person came from by looking at their hat. Here are three examples of different hats that we say in Cusco.