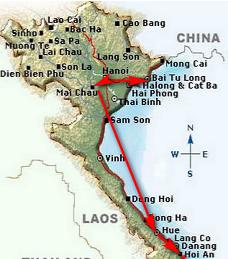 Before we jump into our time in SE Asia, we have to get there. The flights were uneventful and LONG!. The first leg from Miami to Doha was a little more than 12 hours. Seats were very comfortable and made into "lie flat" beds. No shortage of good food. Then a 4 hour layover at Doha. Could have been much worse. The business class lounge was very nice (see pictures below), food was good and the time passed reasonably quickly (at least for me).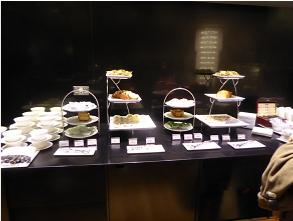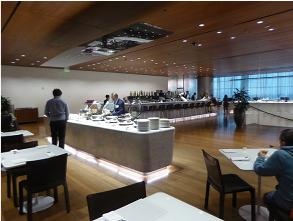 The buffet table on the left has a nice selection of dishes - lamb casserole, fish, rice with chicken, soups, and various other small dishes.

In the right background of the same picture is another buffet table with vegetarian dishes.

The picture on the right is the important one! This is the table of cakes, and other goodies. VERY GOOD!

We arrived in Hanoi a few minutes early and after a few minor problems made it through cusoms and immigration. We met our guide and driver and it was off to the city and checkin at the Silk Path Hotel. We had nothing scheduled for the day as we knew we might be tired from the 25 hour journey. Because we arrived early in the morning, we had a wait until our room was ready for us. We relaxed with a cup of coffee.

After getting a little settled, we decided to venture out for some lunch. I'm reasonably adept at getting around a city that is new to me. However, I'm not sure I was ready for this challenge. First, the traffic is incredible. There is a fair amount of car traffic but the moror scooters and motor bikes are unbelievable. They dart in and out and around and across and here and there. How they survive is one of the miracles of this place. Not only is it a challenge on the streets, but they are parked all over the sidewalk making walking also a challenge. It seems that many of the residents are economy minded as they share the motor bike. Two and sometimes 3 people on one bike is a common sight. (Click here to see a video of the Hanoi traffic.)

The second problem I had in navigating this city is the streets go every whichway. :The ONLY chance I had of getting back to the hotel was to NOT cross a street. If there was a corner, we turned right, dodged in and out around the parked motor bikes until we got to another intersection and turned right again. Fortunately for us, there was a "restaurant?" that looked reasonable and we stopped for lunch. We didn't understand what was on the "menu list" so we enlisted the assistance of a nearby luncher that spoke English. He suggested a dish which we had and it was quite good. Some sort of "sticky pancake" filled with some unknown ingredients topped with some chopped/diced other unknown ingredients.

I kinew the first day was going to be "recharge" after the long trip so nothing was planned. I also thought it would be a good start to have dinner with a local family. Some time ago, I went onto "Withlocals" and arranged to have dinner with a local family the first night. Turned out to be a GREAT idea. We used Uber to get from the hotel to our host family's location - not too far. We were met by our hostess - Hannah and escorted to her home. We had to walk through the ground level "store" and up two flights of stairs to get to the living quarters. Once there, we met the children - a 14 year old son nicknamed "Piggy" and an 11 year old daughter nicknamed "Froggy".

Hannah had prepared a "feast" for us. There was a wide variety of dishes showing us many different Vietnamese specialties.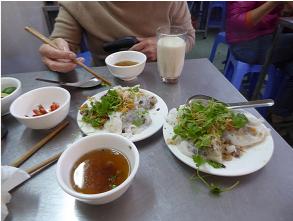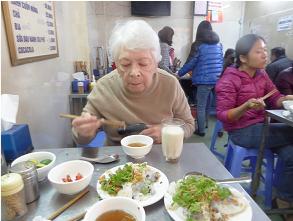 < Granny demonstrating her skill with chopsticks



A closer look at our first Vietnamese lunch ->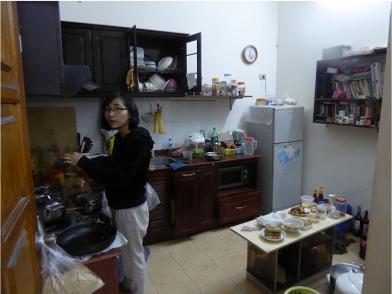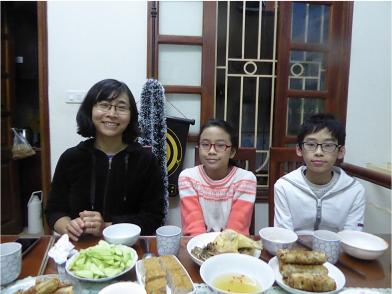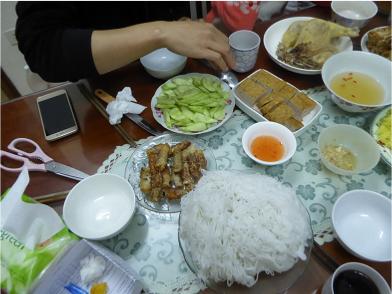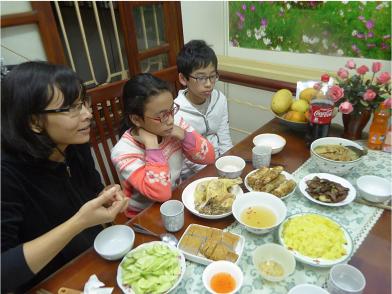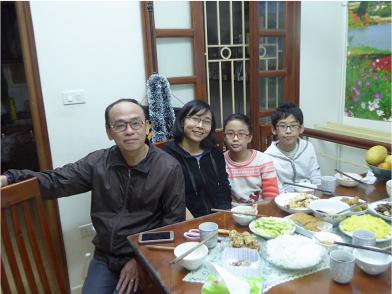 <- Hannah putting final touches on the meal.







Hannah, Froggy and Piggy ->

Trung got home from work and joined us for the feast. If that wasn't enough, after dinner we had another real treat. Piggy and Froggy regaled us with a piano concert. This wasn't just a couple of children playing at the piano. This was two VERY accomplished young musicians playing a selection of pieces by Beethoven, Mozart and Chopin. It was a wonderful evening of FINE food, EXCELLENT music and OUTSTANDING company. THANK YOU Hannah, Trung, Piggy and Froggy!

A closer view of the banquet ->






Below are Hannah and the children about to dig in to the food.

Below are Trung, Hannah, Froggy and Piggy.