It seems a lot of Barabara's narrative pages were lost between the time she wrote them years ago and now when I'm finally getting around to building the web site.

Her narrative will resume when we get to Lewa Downs in Kenya. Meanwhile, for the remainder of Tanzania, you will have to suffer through my recollections.

The second of our three stops in Tanzania was a the famed Ngorongoro crater.

The Ngorongoro Crater is the world's largest unbroken, unflooded volcanic caldera. The Crater, which formed when a giant volcano exploded and collapsed on itself some two to three million years ago, is 610 m (2,001 ft) deep and its floor covers 260 km² (102 square miles).

Shortly before we visited the crater, all camping in the crater was prohibited and we had to stay at one of the lodges on the rim of the crater. Our game drives consisted of getting into a mini-van with a number of others and making the long drive down into the crater. Once there we would drive around and try to find interesting animal viewing. The Crater was our least favorite stop of the trip.
However, there are a couple of events worth recalling. On one occasion we came across a lion with its fresh kill. We stopped and watched as the lion savoured his meal.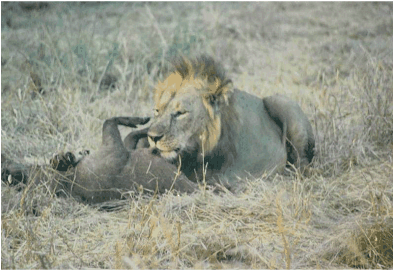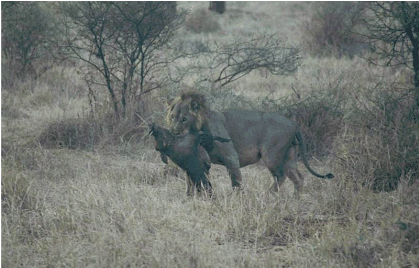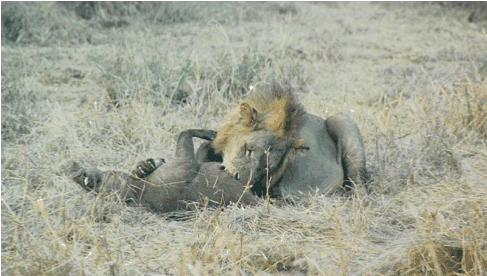 We also saw a group of lion cubs enjoying the afternoon sun.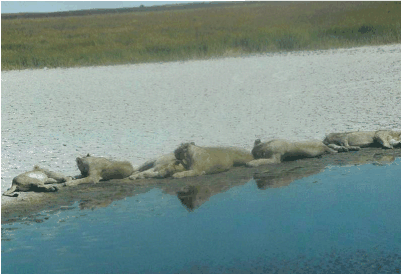 The other memory of the Crater was the rhino watch. It seems that rhino sightings in the Crater were getting to be a rare experience. Whenever a van sighted a rhino, it would radio all the other vans and they would scurry over in hopes that the rhino would still be there. However, there were a couple of rhinos that apparently were well trained and would always cross a ceratain area at 4 in the afternoon.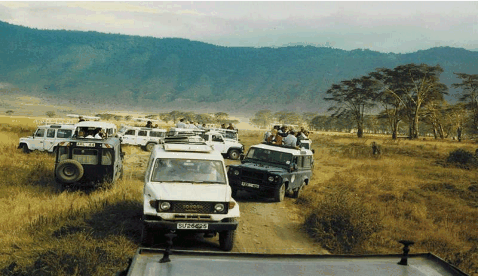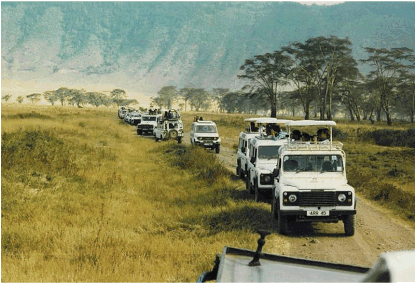 All the vehicles in the Crater would gather at this spot at the approriate time so the tourists could see the rhinos. It was so crowded that the ranger had to move a few of the vans so the rhinos would have room to cross the road. Once it was over, the vehicles tried to exit. It was like a big city at rush hour.

So much for the Ngorongoro Crater. Our next stop was the Serengeti.