We decided that our travels for 2017 will be a trip to Alaska. Everyone that has been there says it is a wonderful place to visit. We expect this to be a scenic beauty and wildlife adventure.

The first part of the sojurn will be getting there. It's a LONG, LONG way from south Florida to Alaska. Our direct route takes us to San Diego and then up the west coast to Alaska. Once in Alaska, the first week will be a SMALL ship cruise of the inside passage. Following that, we will spend a couple of days getting to Denali National Park via Fairbanks and then spend 2 nights in the park.

We leave Denali and take the train to Anchorage. A LONG train ride but it is supposed to be beautiful and we may see quite a bit of wild life. We hope so!

Our return trip is equally as direct as our trip going to Alaska. However, instead of going back via San Diego, we stop in Portland, Oregon for a couple of days.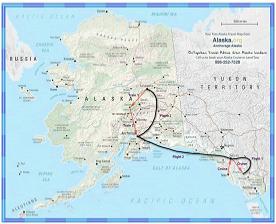 (Click on the map to see an enlarged version.)

The above intro was written a number of weeks before the trip began. It was my original intention to have separate sections for the cruise, Fairbanks, Denali and Anchorage. However, I had misjudged the trip. There is quite a bit to show for the cruise. There is also a bit to show for the Denali portion.

However, the Fairbanks and Anchorage portions are VERY sparse. We were in Fairbanks for only 1 day and by the time we got to Anchorage we both had bad colds and most of our time was spent getting medical attention and/or trying muster enough energy to do anything. One exception was a wonderful day spent with David and Sharon Manneheimer. More about that in the "Cities" section.